Classes/Workshops Training Room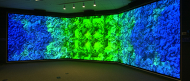 The High Performance Computing (HPC) Meeting/Training Room (Bldg. 880/A1N) offers a multipurpose training/conference room for unclassified or classified events. Please note, SNL is on Kirtland Air Force Base and a badge is required to enter the base.
Information On Getting To A1N Training Room
LLNL and LANL Employees
Follow the instructions for the Badge Office, you will need to register your LLNL or LANL badge to get on SNL and set a PIN to get into SNL through the turnstiles (requires the PIN). You won't need an escort to get into the Tech Areas, but please leave your cellphones and electronic devices in your car unless you have made prior arrangements with your sponsor.
If you don't have SNL Access
Once your sponsor has made the proper arrangements, you will go to the SNL Badge Office in the IPOC building to get an SNL visitor badge. The IPOC building is located outside the Kirtland Air Force Base (KAFB) Eubank Gate. Drive from the SNL Badge Office in the IPOC building to the KAFB Eubank Gate.
Once you have a registered DOE standard badge (HSPD-12 Federal Credential) or an SNL visitor badge, you can present the badge to the guard at any base gate to be granted access.
Enter Kirtland Air Force Base through the Eubank gate, past the traffic light and park in the parking lot on your left. Go to the SW corner of the parking lot and you will find a turnstile near there — labeled gate 7
Do I Need an Escort?
If you are a visitor and you don't have a DOE standard badge (HSPD-12 Federal Credential), you need an escort. You are considered an uncleared individual and need a cleared invidivual to escort you into the Tech Areas. If you require an escort, please email hpc-help@sandia.gov prior to your arrival. When you arrive at the gate use the phone to call 844-0627 or 844-0719. Someone will come get you. Please leave any laptop or cell phone in your car or at home. Electronic devices are NOT ALLOWED in the Tech Areas.
For more information, please email hpctraining-help@sandia.gov